EDIT MAIN
Town Meeting approval results in proposed budget being sent to referendum
On June 4, 2019, attendees at Yarmouth's Annual Town Meeting adopted the proposed Fiscal Year 2020 school budget. This presentation provides a brief summary of the budget and related data.
The budget adopted by the voters at Town Meeting will be considered at a town-wide referendum on June 11. Voters are asked to cast ballots at the Robert Boyd AmVets Hall on North Road between 6:00 a.m. and 8:00 p.m.
Proposed Budget Summary
On January 28, 2019, the Superintendent presented the proposed budget to the School Committee in public session. Residents are encouraged to read this summary of the budget (updated 4/5/19) for more information on the needs and proposed expenditures for the 2019-2020 school year. Excerpts from that summary are posted below.
We have elected to use a Level Services model that illustrates where existing and new items impact expenditures. In this model, it is important to understand several definitions:
Roll-forward budget: This is the expenditure projection made by taking all of the employees and expenditures in the current school program and moving them forward into the next school year.
Level services budget: In this layer, adjustments are made to staffing and programming necessary to provide the same level of programming in the coming year as in the current year.
Changing demands: This category includes budget items that respond to changes in specific programs.
Strategic planning: Any expenditures for new programming proposed in response to our five-year strategic plan will be depicted in this portion of the pyramid.
Debt service adjustment: The approval of the November 2018 referendum will impact the FY20 budget significantly, though there are various scenarios for how the debt repayment may be structured.
The Level Services model is best illustrated using the expenditure pyramid in Exhibit 1: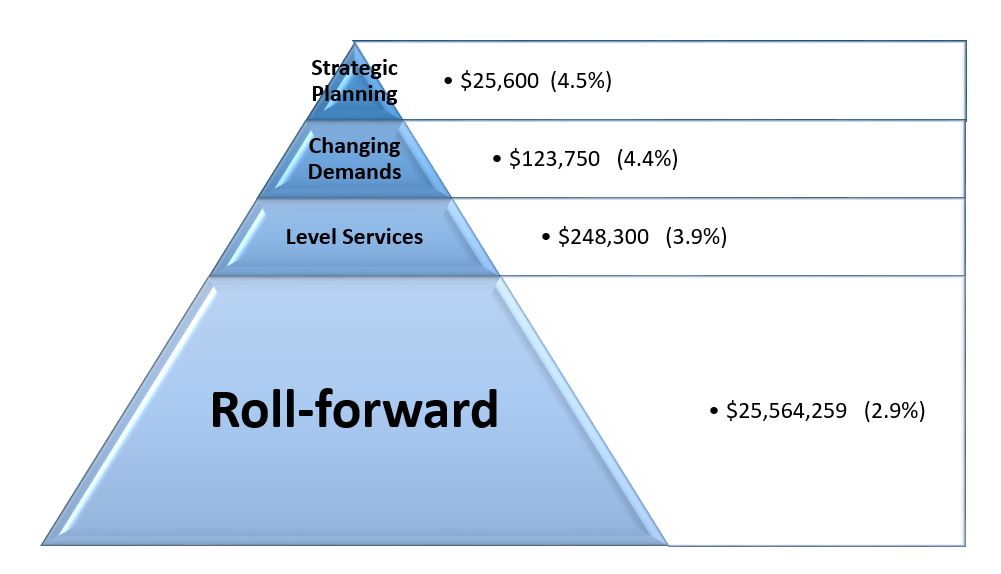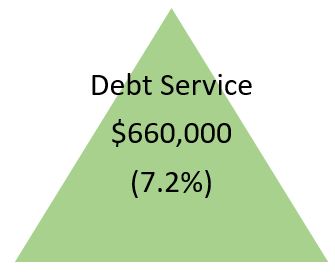 Layer I – Roll-forward $25,564,259 2.9%
In comparing the current year to FY20, a roll-forward budget would result in an increase of $727,901 or 2.9% (See Exhibit I). Several adjustments are worth noting in this layer of the budget. Most notably, salaries and benefits for approximately 250 employees will be adjusted to reflect contractual agreements, with projected 10% increases in health insurance premiums. During the 2018-19 school year special education needs necessitated the hiring of three additional educational technicians in the district, and increased kindergarten enrollment forced the hiring of an additional teacher. In order to account for these positions within the approved FY19 budget, adjustments had to be made in other lines. Carrying those positions forward into FY20 results in a noticeable impact ($200,000) to the personnel lines. The final adjustments in the roll-forward budget are found throughout the equipment, supply, contracted service, and energy lines, as minimal adjustments in many individual accounts result in an overall decrease of $23,168.
Layer II – Level Services $ 25,812,559 3.9%
A level services budget of $25,812,559 for FY20 represents an expenditure increase of $976,201 (3.9%) over FY19 – an increase of $248,300 over the roll-forward budget amount. This layer includes all of the items included in the roll-forward budget, plus adjustments for increased enrollment and replacement of core equipment/infrastructure to continue to serve our students.
Notable additions to the Level Services budget include:
Grade 7 Teacher at Harrison Middle School (HMS)
.5 FTE Guidance Counselor at HMS
Heat for new portable at HMS
Layer III – Changing Demands $ 25,936,309 4.4%
To address changing demands within the school department, an additional $123,750 is proposed for FY20, specifically designated for two professional positions and federally-mandated transportation of homeless students:
0.5 School Psychologist
1.0 ELL Teacher
Reduction of 0.5 ELL Ed Tech
Layer IV – Strategic Planning $ 25,961,909 4.5%
Providing students with expanded learning opportunities at the High School and restoring professional development funding to appropriate levels are two areas addressed in our strategic plan. Work at the High School has been extensive, including the creation of Extended Learning Options, the expansion of Career and Technical Education (CTE) opportunities, and restructuring of the traditional, credit-laden pathway. To continue that work in FY20 will require an additional $21,250 to be added to the budget for one part-time professional position at the High School, and $4,350 for professional development at the Middle School.
Layer V – Debt Service $ 26,621,909 7.2%
The most updated model of funding the debt service that was approved in November proposes payments totaling $660,000 in FY20. This would require a second significant increase in FY21 to reach the highest repayment year of approximately $1.7 million.
COMPARISONS
Per pupil expenditures
Across the State of Maine, the average per pupil expenditure in FY18 (the most recent year of complete data) was $13,863. Among comparison districts here in southern Maine, those costs are considerably higher (averaging just over $16,000). As illustrated below, Yarmouth compares quite well with these other well-regarded school systems in terms of per pupil spending.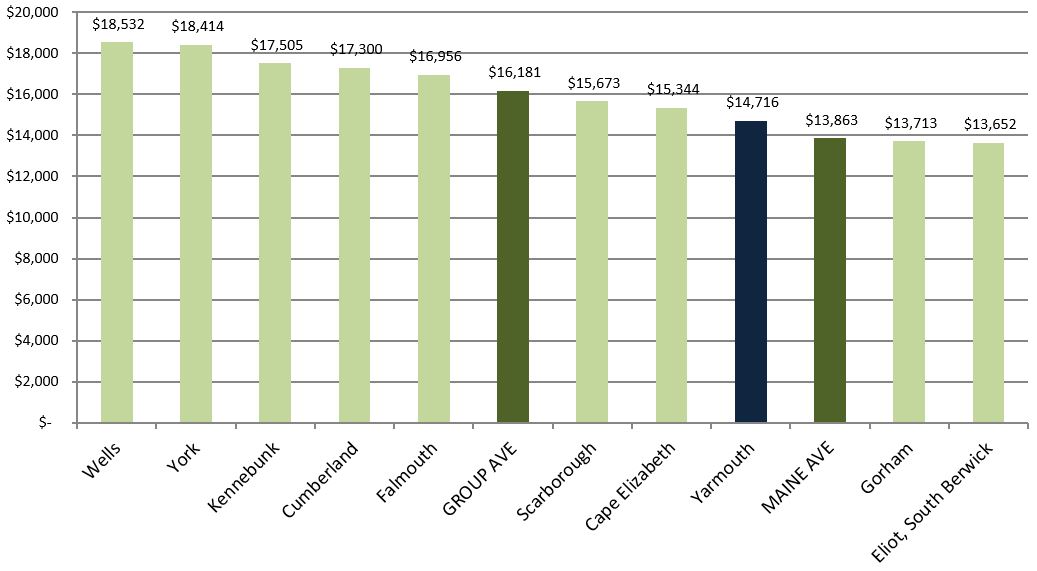 IMPACT TO THE TAXPAYER
The increase in expenditures, offset somewhat by a projected 16% increase in revenue, results in an increase to the local Yarmouth tax base of 0.65 per $1000 of property valuation – an increase of 3.6% over the current year. For a $400,000 home, this would result in an increase of $260.