June 7, 2023
Dear Parents,
It is hard to believe that the 2022-23 school year is so rapidly coming to a close. It has been a great year. I feel so fortunate to have spent the last six years of my career in this wonderful school and community. I will miss being here very much. Thank you all for your support and kindness over the years. Kelli Rogers is the new Rowe School Principal and she will be in touch periodically over the summer with families. She has visited the school twice since she was hired and has met a number of staff members already.
The Ice Cream Social was well attended tonight. Our amazing PTO has run it for many years. It wouldn't be possible without the parents who help to organize and volunteer at the event, as well as Rowe staff members who show up to help. Our superintendent Dr. Dolloff and YES Principal Mr. Gleason were there to scoop ice cream, too! Thanks to all of the families who were able to attend during such a busy time of year.
Budget voting June 13th
Last evening, approximately 125 residents of Yarmouth attended the 2023 Town Meeting and voted to send the Proposed FY24 Budget to the residents of Yarmouth. The next and, hopefully, the final step in this approval process, will be a referendum to be held on Tuesday, June 13 at Yarmouth High School. Polls will be open from 6:00 a.m. to 8:00 p.m.
Voters will be asked to consider the proposed 2023-2024 School Budget, which can be viewed on our budget page, as well as candidates for Town Council and School Committee.
We encourage all Yarmouth residents to stop by the YHS Gymnasium (parking is available on the Route 1 side of the building) to cast their ballot.
2023-24 Placement & Step-Up Day
It is always bittersweet to say goodbye to the first graders as they move on to Yarmouth Elementary School, but we know new and exciting experiences await them. Our Step Up Day for rising first and second graders will take place on Tuesday, June 13th. Teacher placement letters will come home in students' folders that afternoon. Current Kindergarten students will also be bringing home a report with their current summative assessment scores called the NWEA or MAP. An explanation letter for the assessment will be included. Current first graders take this assessment in the fall and winter only, so no scores will be sent home with them.
Placement letters for rising kindergarten and Pre-K students will be emailed home to families by the latter part of June. We are still working on finalizing those placements now that we have the information we need on all new students coming in. Not all of the rising Kindergarten students attended Pre-K at Rowe in addition to all of the new Pre-K children we will be welcoming for the fall of 2023-24.
Learning Profiles
All students will bring home a copy of their Learning Profiles on the last day of school.
Merrill Memorial Library
Summer Reading programming will be held at Merrill Memorial Library along with many other fun events. Please check out the flier below and visit https://yarmouthlibrary.org/ for more information.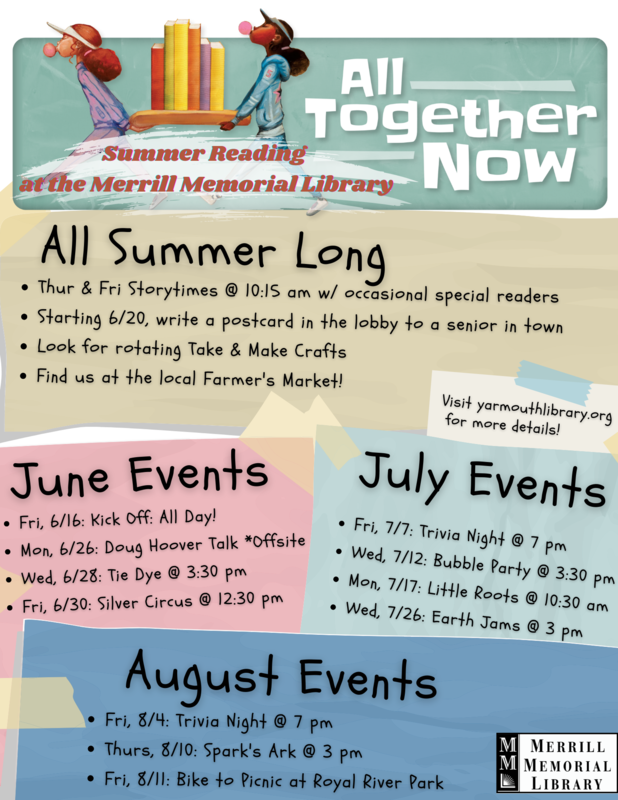 Additional Summer Reading Tips:
I have provided a document outlining some further summer reading tips for families. The information is linked here: Summer Reading Tips
Summer Math Fun
We want to make you aware of several excellent opportunities to keep your children engaged in math throughout the summer. Parents often ask how to keep mathematics alive during the summer months to maintain skills. Below is a math grid to emphasize perseverance and choice. We hope your children find fresh opportunities for practice and growth. We encourage students to take advantage of these math activities to keep their skills sharp. Thank you for your support in our effort to keep the learning purposeful for students.
Dates to note:
Thursday, June 8th- First Grade Beach Day at Crescent Beach State Park
Monday, June 12th- Field Day for Pre-K, K, and first grade
Tuesday, June 13th- Step Up Day for rising first and second graders.
Wednesday, June 14th - Last day of school for AM and PM sessions of Pre-K. Rain date for Kindergarten and first grade field day.
Thursday, June 15th - Last day of school for Kindergarten and first-grade students. This will be a half day for students. PLEASE NOTE: Dismissal begins at 11:45.
Sincerely,
Susan Lobel, Rowe School Principal